About
Welcome to Snooker.org!
This site is devoted to the noble game of snooker, the billiard game played on the big tables!
You might want to check out the FAQ and the rules if you're new to the game. Maybe you would like to know what is available here too?
If you've been here before though, you can go straight to the new stuff.
You can also find us on Facebook, Twitter and Instagram.
Check our LinkTree page for all our social media accounts and more.
Hopefully you will enjoy your stay, sign the guest book and come back soon.
About the Author
Hermund Årdalen is Chief Administrative Officer at Laboremus Group in Oslo, Norway. He was born in 1972 in Fredrikstad, but moved to Oslo when he started his studies at the University of Oslo.
He started playing snooker around 1990 and soon became an addict. He has entered a few tournaments, but is still a true amateur. His highest break in competition is 71. In training he has managed to scrap together an 88.
In 1993 he discovered the Internet. After finding the World Wide Web there was no way back. He truly believes that W3 will revolutionize world communication and global understanding.
Awards
Listed in the BBC Education Web Guide
Disclaimer
Snooker.org is not a product or property of World Snooker or other organizations/companies. It is a private initiative run on a strictly voluntarily basis.
What's available?
This content has been divided into five groups:
Guide
Helping you to find your way around the site.
References
How many points for the blue? Where is the WPBSA located? Are there any cue manufacturers on the Net?
The Action
Scanning the globe for the latest results and rankings.
Interactive
Join in!
Etcetera
The rest ...
Subdomains
Some of the pages have alternative addresses that are easier to remember.
History
In the early nineties I was constantly searching for snooker information on the Internet, but there was hardly any available. I was considering starting my own snooker site for a long time, but I didn't wake up before I found Matt Braithwaite's (now defunct) "World Snooker Archive" (//www.brad.ac.uk/~msbraith/S/s.html) in November 1994. That got me going! Matt went on to manage the RileyNet site, but has now moved on to other projects.
I announced the site on the Usenet newsgroup rec.sport.billiard just before midnight on 26 November 1994. Calling it "The WWW Snooker Home Page".
According to Matthew Gray's Web Growth Summary there were around 10,000 sites on the web at that time.
The name "WWW Snooker" was inspired by the site WWW Music Database.
In the beginning there wasn't much on the site, mostly links to the very few snooker pages out there. From December 1994 I started covering the major snooker events. I could do this because of the results I received from Jonas Ödman.
Early on there was a set of the BCA snooker rules on the site, but I later had to remove them because I received new information on the copyright restrictions. I have never published the WPBSA rules as that is not allowed. Jari Kokko and I have been planning to contact the WPBSA for years, but we have never gotten around to doing it.
The Fountain, by Richard Fountain was started in August 1995. Richard is an ex snooker coach and used to be the manager of Mark King.
January, 1996 saw the birth of the "High Break List for Netters", a chance for surfing snooker players to register their top tournament breaks and be able to compare with others.
In March the same year I ran the first edition of the Crucible Contest. It's a competition where the goal is to predict how the World Championship will turn out.
By this time I had gathered quite a few snooker links and on August 7th I launched Snoohoo! which is a compilation of the links in different categories. 30 September I made Snoohoo! fully automatic with the aid of CGI-scripts. From now on I only had to register a link once, and all related pages would be updated. At present (7 December, 1998) there are more than 1,000 links registered.
August also saw the birth of the Marketplace, a place for people to buy and sell snooker-related material, e.g. cues, tables and videos. 7 December 1998 there were 219 ads registered.
I had always received a lot of questions concerning the snooker rules. In October 1997 I introduced the Snooker Clinic where visitors could leave their questions for Jari Kokko (mentioned above) to answer. The answers would then be placed in an archive for all to browse. Later we extended the Clinic to also handle other snooker questions, and John Day, Martin Bell and Bernie Mickeleit joined the team. As of now (7 December 1998) 394 questions can be found in the archives.
The next major addition to the site was the Snooker Chat Room in June 1997. It was an attempt to bring together snooker lovers from all over the world to discuss their common interest. The room didn't take off until the 1998 Embassy World Championship, but it's been buzzing ever since.
After that came the Snooker Forum in November 2001 and the much improved search facility in January 2002. In June 2003 I added a searchable and sortable ranking page.
Other pages include a quiz, ranking lists, player bios, snailmail addresses (e.g. of associations, and magazines) and a guest book.
In the summer of 2000 I moved the site from the University to my new workplace. Never try this yourself!
In 2005 I was lucky enough to get hold of the domain www.snooker.org. A big thank you to Nicolas de Biolley and Bart Van der Haegen! Apr 30 2005 was the official move from www.laboremus.no/snooker to snooker.org.
Feb 2 2008 saw the birth of a new design on the frontpage. It was about time too!
April 9 2009 we joined Twitter. See the first tweet.
See also all the kind words we have received there.
June 28 2010 I finally launched the Score Centre, a set of dynamic pages with results and rankings. This led to more information being available, and less work for me.
After the launch Tore Skagestein helped out a lot. Then in August 2011 Toth Gabor joined the team and made thousands and thousands of updates from then on. In 2014 Eddie Jones, Monique Limbos and Andrea Wadman joined. Now the team has more than 15 members.
April 20 2012 I changed the name from "WWW Snooker" to "Snooker.org". I also got a new logo courtesy of Ida Johansen.
June 15 2014 our Facebook Page was launched. See the first post.
August 6 2015 we launched an API at api.snooker.org. It has been used for apps and more!
August 28 2015 we finally got a favicon and also various app icons.
September 28 2016 we started the coverage of the Ladies Tour. First event up was the Paul Hunter Ladies Classic.
April 13 2018 we launched Stories.
September 20 2019 we launched the Facebook Group Snooker.org Community.
May 14 2020 we made the front page mobile-friendly! More pages followed.
February 18 2022 we introduced ads. No betting ads though!
December 6 2022 we moved the site to the cloud! We also switched from MSSQL to MySQL.
December 8 2022 we (finally) added a certificate to the site.
May 29 2023 we announced that the iOS app Snooker Live now is our official partnered app. It is being built by Ricky Stone using the Snooker.org API as data source.
There are currently thousands of pages at Snooker.org, both static and dynamic.
See the Wayback Machine for old versions of the site. The oldest I've found is from 16 January 1999 (www.stud.ifi.uio.no/~hermunda/Snooker).
There are also older ones, e.g. one from 4 April 1997 (www.ifi.uio.no/~hermunda/Snooker) but I can't make it work.
I've been in touch with snooker players and snooker presidents from all over the world, and I have received questions on just about any snooker topic you can imagine! There have also been a few sponsors knocking on my door, e.g. Riley, Embassy and Willie Holt, but unfortunately I had to turn them all down because of the University's policy. No commercial activity was to exist on their servers. Maybe things will change now that I've moved the site. There will however never be betting ads on the site.
I was however fortunate enough to be invited to the 2000 European Championships in Stirling, Scotland, as a guest of the sponsor, TSN (now 110sport). Also John Street sent me an autographed copy of his rules book and Janie Watkins got me a snooker CD-ROM.
We provided Luke Hurley (12 Yard Productions) with a list of snooker players for the UK TV Gameshow "Who Dares Wins", filmed in the week of 27 October 2015, and then in 2018. The contestant on the first show correctly named 10 players. The contestant on the second show managed seven. We were mentioned as the credit for the list.
Snooker.org has received quite a few awards and has been mentioned in a number of magazines and books. I especially enjoyed the coverage in Snooker Scene and to see two of the pages (Snooker.org and Snoohoo!) on the top 70 list published by Billiards Digest). Thanks to Janie Watkins for that Snooker Scene article and for all the info she's provided.
In 2016 I was interviewed on Cuesports Club.
Finally, I have to mention all the positive feedback I have gotten from regular users. Although most of the work is pleasure in itself, it certainly helps that people cheer me on. Also I've been lucky to have received help from so many people. Thanks to all!
Visitors
I started registering hits on the front page on April 27th, 1995. Hits are not the number of visitors, but rather the number of times the front page has been accessed.
10,000 was reached at 18:40:38 CET on September 18th the same year.
#50,000 came at 17:01:05 CET on July 16th 1996.
#100,000 came at 01:55:03 CET on March 2nd 1997.
#200,000 came at 06:12:57 CET on November 30th 1997.
#300,000 came at 22:03:48 CET on August 26th 1998.
#400,000 came at 21:47:06 CET on January 20th 1999.
#500,000 came at 19:53:46 CET on April 19th 1999.
Here are some stats from recent (calendar) years:
Year
Unique Visitors
Visits
Pageviews
#
±%
#
±%
#
±%
2008
178 K
n/a
232 K
n/a
829 K
n/a
2009
190 K
7
249 K
7
827 K
0
2010
230 K
21
329 K
32
1,10 M
33
2011
344 K
49
805 K
144
3,12 M
183
2012
526 K
53
1,60 M
99
5,26 M
69
2013
642 K
22
2,24 M
40
7,76 M
48
2014
953 K
48
3,18 M
42
11,6 M
49
2015
1,07 M
12
3,86 M
22
13,1 M
13
2016
1,22 M
14
5,19 M
34
22,3 M
70
2017
1,53 M
26
7,24 M
40
33,1 M
48
2018
1,37 M
-10
7,76 M
7
34,5 M
4
2019
1,72 M
26
9,54 M
23
31,9 M
-8
2020
2,27 M
32
10,5 M
10
33,3 M
4
2021
2,42 M
7
12,4 M
18
37,0 M
11
2022
2,34 M
-3
12,8 M
3
39,5 M
7
Total*
16,4 M
77,9 M
275 M
* Since 12 Dec 2007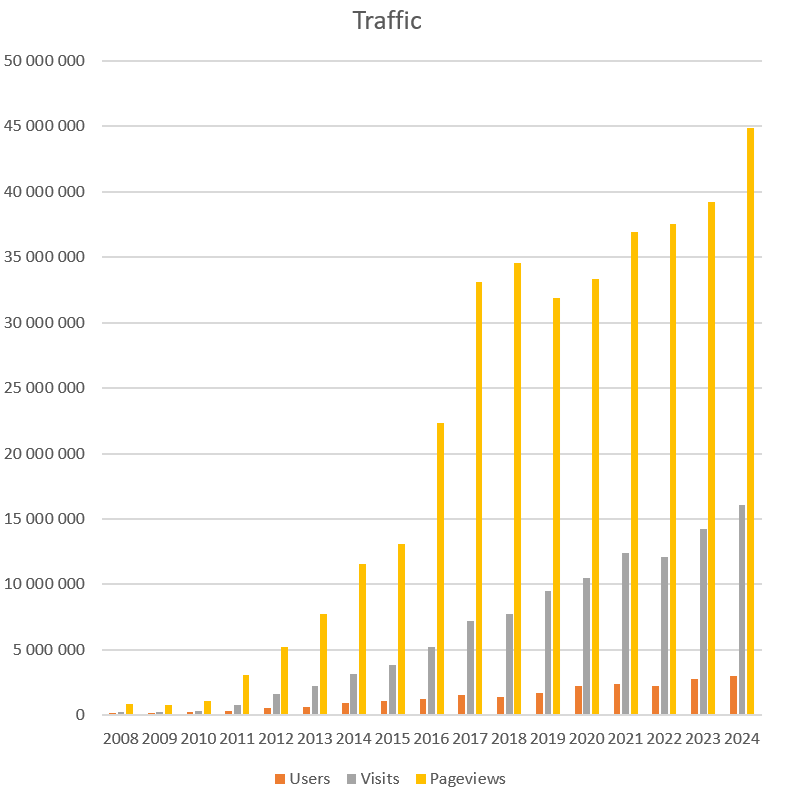 The record for most visitors in one day is from the 2022 Betfred World Championship. On the final day that year (Mon 2 May) there were 109,584 visitors.
Link to Snooker.org
If you want to link to Snooker.org from your site you can use this image:

Simply include the following HTML-segment in your page: